My Cill Rialaig Diary.
Day 7, Sunday 8th March 2009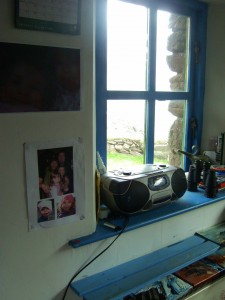 I wake with a very fuzzy head on me today.  Rising at 10 it's all I can do to make coffee.
The northwest wind has turned to a westerly and gales have turned to storm force mixed with hail and snow.
It suits me well that its a studio day and not to have any choice in the matter. I have breakfast then try to read my book, but this makes me dizzy. I go outside for air, but the hailstones rattle on my head and the wind wants to carry me away. I come back in and lie down – that's better.
An hour later I feel much better and start on the book again promising myself I will get stuck into the gannet painting soon. But sooner rather than later I am on a fantastic journey; it's "The Tennis Stars Balls" by Stephen Fry, "a gruesome romp through the canon of human wickedness" according to the Times.
Either way the gannets will have to wait. I remind myself that it is Sunday and I am on retreat and I let myself fall deeper and deeper into the Cill Rialaig pace of life.
I decide on early bed with the tennis stars balls and promise myself to make an early start tomorrow. The forecast is better for the morning with rain for the afternoon. The tempest outside only adds to my inner peace as I drift off.
---