Context
Popular presenting duo Joan Bakewell and Frank Skinner have returned to Sky TV's Landscape competition after the success of the Portrait Artist series. Expert judges Tai Shan Schierenberg, Kathleen Soriano and Kate Bryan are also returning. The winner will be awarded a £10,000 commission, which will be added to the National Trust's permanent art collection.
Narrowly missing out on a place in Heat 3 of Sky Landscape Artist of 2015, by way of open submission, I was offered a place as reserve artist for the Heat. It was a very un-Christian position to find myself in, wishing that one of my fellow artists be ill-fated and fall by the wayside, but what the hell. Failing that I was guaranteed a place in the Wild Card competition the following day. I saw it as an opportunity not to be sniffed at. I wasn't going there to make up the numbers or for the "experience" but because I believed I could be a real contender.
In the event all eight Heat artists arrived safe and sound meaning me and Karl (the second reserve artist from Gibraltar) were joining the Wild Card painters. Here roughly twenty artists were competing for one place to progress to the next stages.
Early in the morning we were brought to our painting location and briefed. We would start at 9am and work till 3pm at which time the judges would announce the winner. The judges, presenters and a camera team would be moving throughout us, interviewing us, as we depicted the landscape.
Lights – Camera – Action
Straight away the crew were asking me to remove a peg from the ground and hammer it in again because the camera man liked the sound. I started working as soon as my easel was standing securely. I do a quick drawing with acrylic marker and start basting the canvas in turps and linseed oil. Tai Shan Schierenberg turns up wondering what I'm putting on the canvas and I explain my modus operandi and he wishes me luck and congratulates me on my setup.
I'm working on a 70×100cm canvas in landscape format, depicting the bay and headlands seen from Trellisick Gardens. I want to keep the composition as simple as possible so leave any foreground trees out. The camera team and judges visit regularly following my progress. Late into the picture Joan Bakewell fixes me with a stare when I tell her landscape painting is a lot like self-portraiture, I notice the whole crew surrounding her turn to me in anticipation. I explain that the scene being distilled through me has to have an element of self-portraiture; hence twenty artists paint the same scene in their own individual way. She seems satisfied and moves on with her media entourage.
At 12.30 it's finished and I can do no more without overworking it. Individual parts of the painting work well but I'm neither convinced nor impressed. It's completely unremarkable and I don't like it.
I am not worried though, and things might actually still be going to plan. Right on cue the sky darkens and the morning sun gives way to rain. At one o'clock I start my second piece knowing I'll have to be fast and relentless to be finished on time. It's another 70×100 canvas but portrait format this time and with a lively, atmospheric, blue under-painting. This the point where most of the others are doing the finishing touches, tinkering around or gone for lunch and out of the rain. My radical decision to start a second large canvas so late in the game catches the attention of the judges and camera crew alike and they're over to have me explain what I'm up to.
I'm working fast and loose emboldened by the knowledge that I have one piece in the bag, I feel free go a bit wild at the Wild Card competition. I am also aware that if I am to have half a chance of winning I'll need to be experiential and go out on a limb to create a remarkable picture. Two thirds of the canvas is a vast rainy sky dwarfing the little estuary below. With ten minutes to go I start making big, bold marks in the clouds transforming them to dramatic effect. It ties everything together the way I'd hoped and I'm finished at three on the button.
I wonder if the judges had noted my late flourish. They call time and confer to pick a winner. Don't worry, now, no spoilers here as we were all contracted to secrecy. Suffice to say it was someone else going forward on this occasion. Disappointed but unperturbed I set about packing up. Then privately and unofficially the crew commiserated and informed me that it had been a two horse race and that I had been pipped at the post.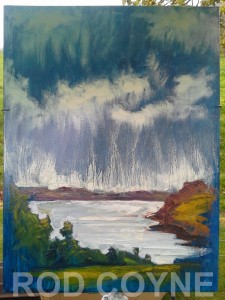 Now I felt affirmed as I loaded the big blue van to start the journey home. I was very happy with my performance and the event as a whole. I didn't drive all the way to Cornwall for just the "experience" but because I believed I could be a contender, and in the end I got both. I'd do it all again and I wouldn't change a thing.
---