"My Place on Canvas"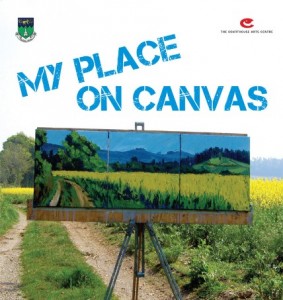 On Sunday 23rd November 2014 I launched the "My Place on Canvas" project at the Courthouse Arts Centre, Tinahely, Co. Wicklow, Ireland. It was the product of three years work and the Blurb went like this:
30 Wicklow landscapes of real people unveiled
An exhibition celebrating Wicklow landscapes where the public have decided which scenes Rod Coyne would paint. Choosing a selection of those favourite "My Places…" Rod has interpreted them in his own distinctive plein-air style. Each canvas has its very own personal back-story. These sentiments and memories will be exhibited alongside the painting.
This is an interactive project where the artist looks at the world through someone else's eyes, and they get to see their landscape through his. People who previously were never involved in art suddenly find themselves at the heart of this unique show. The result is a compelling mix of paintings and text celebrating the stunning beauty that is Co. Wicklow.
---